The experienced team at Devoted Vets are dedicated to best practice veterinary care.
Animal welfare is of the utmost importance and reflected in the day-to-day care our team provides.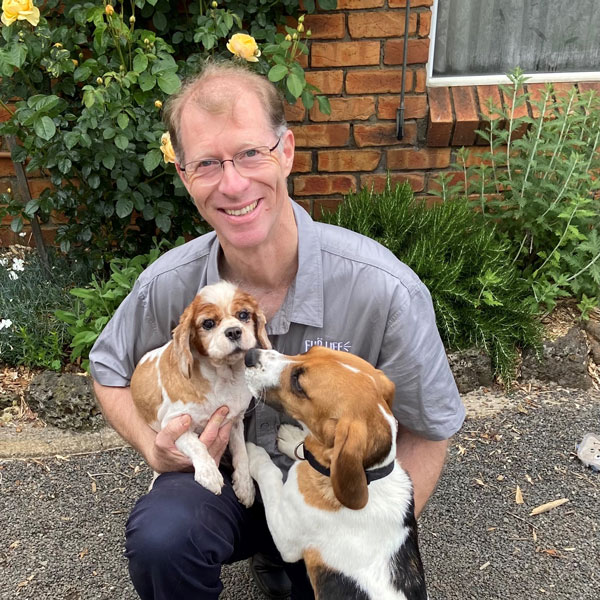 Dr Matthew Jaques
B.V.Sc IVAS
Veterinarian
Matt has worked in mixed practice in Gippsland since graduating, with some time spent in England and Wales.
Matt is married to Sherri and together they have a family of critters.  Correctly this includes Rosie (a cavalier) Hudson (a Burmese) and Toothless ( a genuine but distinguished Moggy) .
Matt has an interest in pain management, which developed from seeing many cases of arthritis and down cows as well as acupuncture.
In his spare time, Matt appreciates good coffee and any cheese and being outside.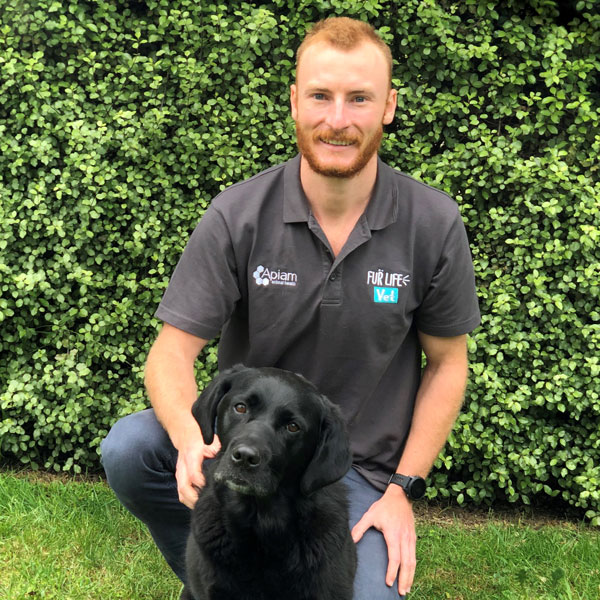 Dr Ben Rhodes
B.V.Sc IVAS
Veterinarian
Ben was born and raised in Far North Queensland, and graduated from James Cook University Townsville in 2016. Recipient of the Australian Cattle Veterinarian award and eager to work in dairy mixed practice, Ben found a home at devoted vets as a new graduate.  Ben subsequently returned to FNQ whisking Kate away from the cold, dark south, to the beautiful sunny north where they both joined the Tableland Veterinary Service.  
After 2 years of mixed practice, Ben, Kate and their three dogs Oxford, Olive (featured) and Ari; sold their second hand furniture, bought a camper trailer and travelled Australia. Ben locumed at 13 clinics across Australia and New Zealand before returning to Devoted Vets in April 2020. Ben has a keen interest in small animal surgery.  
Outside of work Ben and Kate's lives revolve around adventures with their dogs. Ben loves fitness and adrenaline and hopes to surf, snowboard and skydive around the globe. Lastly Ben would like it publicised that despite being disproportionally short and long, Ari is both fitter, and a faster runner than he is.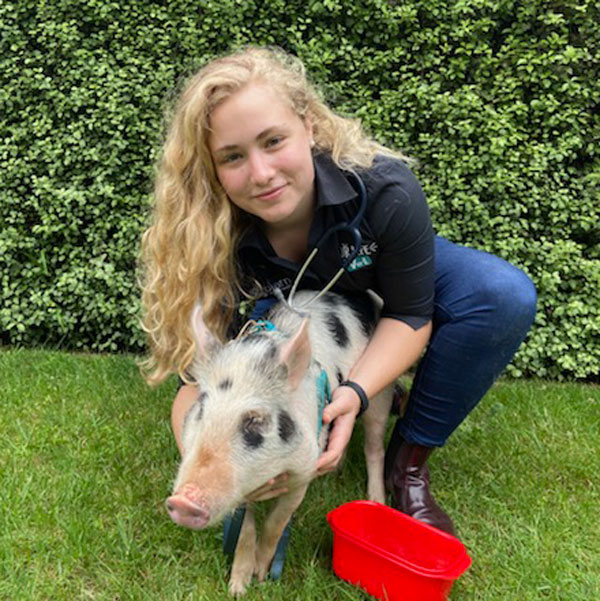 Dr Amy Hewitt
B.V.Sc
Veterinarian
Amy was born and bred in central Queensland and attended the University of Queensland for vet school where she graduated with a Bachelor of Veterinary Science (Hons Class IIa) in 2019. It was also where she worked for 4 years as a large animal research assistant and Dairy Milker.  
Amy is a keen, compassionate and positive new graduate who is ready to have a go at anything (literally anything be that a duck or a deer). However, what she loves most about her job  is the clients (both small and large animal), soft tissue surgery, neurology and lifestyle animals (these animals include goats, alpacas, sheep, pigs). So Amy is your resident goat and pig vet should you need one.  
In her spare time, Amy is in training for the Melbourne half marathon, running a parkrun at Brooker Park (once COVID is over), making origami or training her kitten Fia to do tricks. Amy says the best thing about working at Devoted Vets would have to be our collegial spirit so she always know that her team has her back. Plus the amazing mentorship that she has received this year. Amy is excited to see what 2021 has to bring.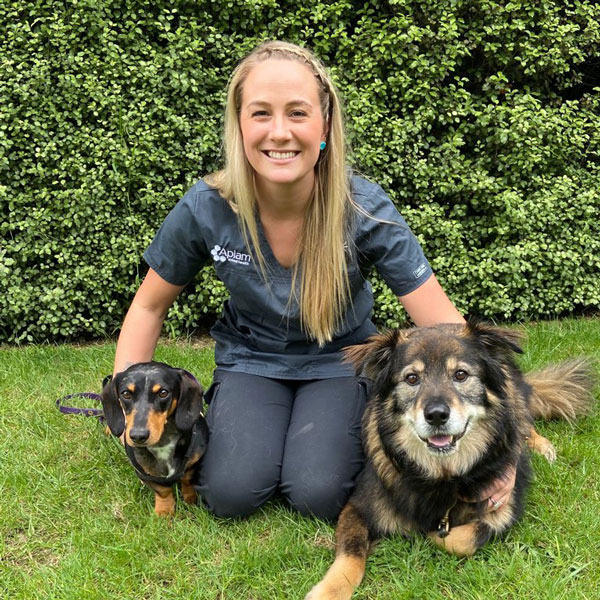 Kate Jackson
Dog Trainer
Kate grew up on a dairy farm in Labertouche and has always enjoyed working with animals. Kate started nursing at Devoted Vets in 2011 and in 2018 she moved to the Atherton Tablelands in FNQ where she worked in a busy small animal clinic, she then went on to travel around Australia with her partner Ben and their three dogs in a 4WD and camper trailer.
As a Vet and Vet nurse pair they were able to locum at various clinics all over Australia before coming back to Warragul and back to Devoted Vets!
Kate has a special interest in dog training and behaviour and is a qualified dog trainer having completed the National Dog Trainers Federation course in Canine Behaviour and Training.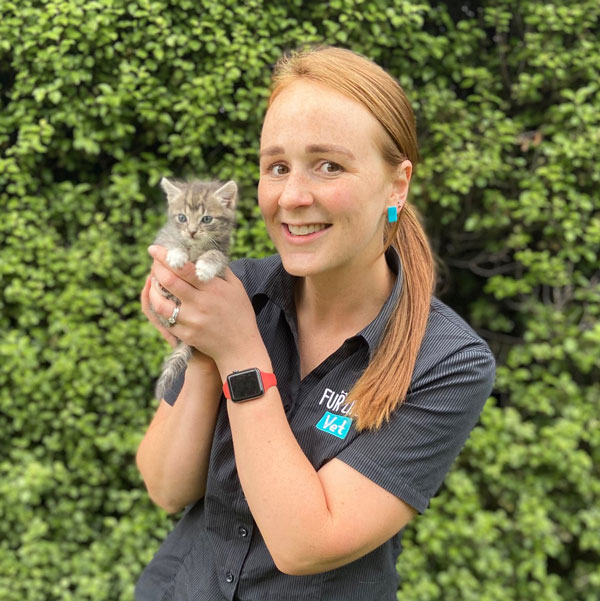 Hannah O'Dwyer
Veterinary Nurse
Hannah has been working for Devoted Vets since 2017, after a career change into Vet nursing at 27 when she knew this was her passion, she still can't believe that this job is called "work" & counts herself very lucky she was able to work for Devoted Vets
Hannah is our self-proclaimed crazy cat lady… & proud of it, with 3 cats (all adopted from our clinic), 3 dogs & a husband her outside of work life is busy filled with dog walks, cat cuddles, gym & socialising with friends.
Hannah's favourite part about working for Devoted vets is our amazing cat rehousing program, she claims every cat as her own until its adopted by the purrfect family.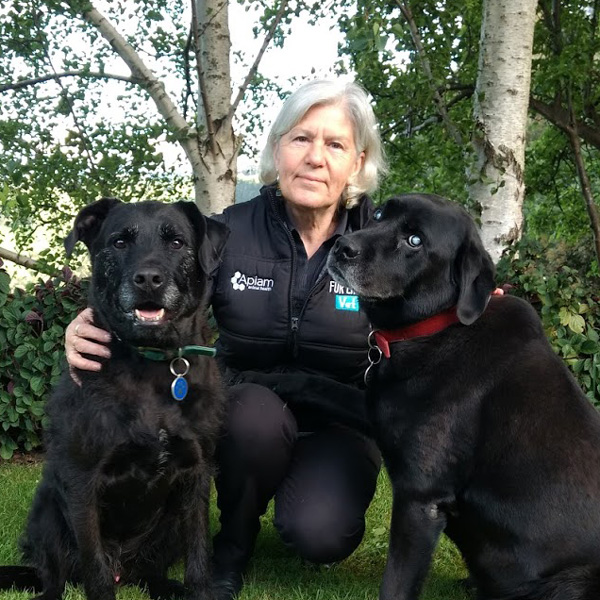 Raelene Lees
Administration
Raelene joined the Devoted Vets team in 2012.
Not from the veterinary industry, her administration role has been varied, sometimes challenging but most of all enjoyable.
She has 2 dogs, labrador Chuck, who is now blind and mixed breed Syd, who was a rescue dog from the clinic. Raelene says that supporting the veterinary team at Devoted Vets is rewarding and a pleasure.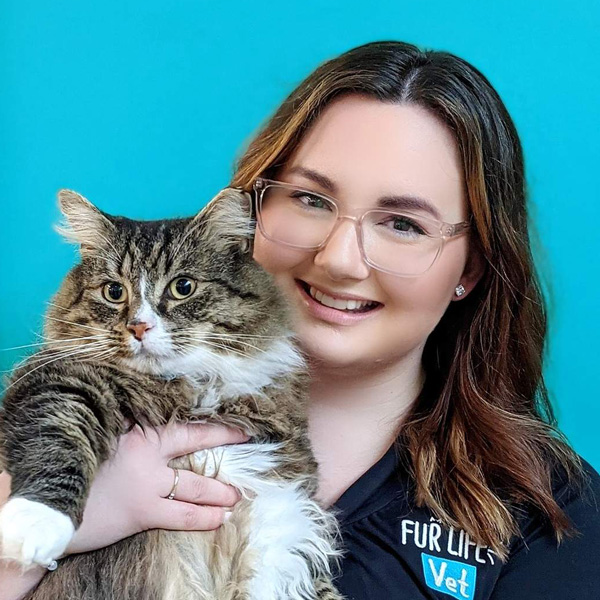 Georgie
Veterinary Nurse
Georgie joined Devoted Vets in 2021 as our Clinic Receptionist.
Georgie comes from a Veterinary Nursing background and enjoys talking to clients and keeping organised so she's moved into a reception  position.
Georgie is new to Warragul and is loving the country town.Georgie and her partner Jake started with one border collie Teddy and have since adopted three more pets to add to there growing family Missy, Muffin and Mr Wallace (pictured above) who have all stolen her heart.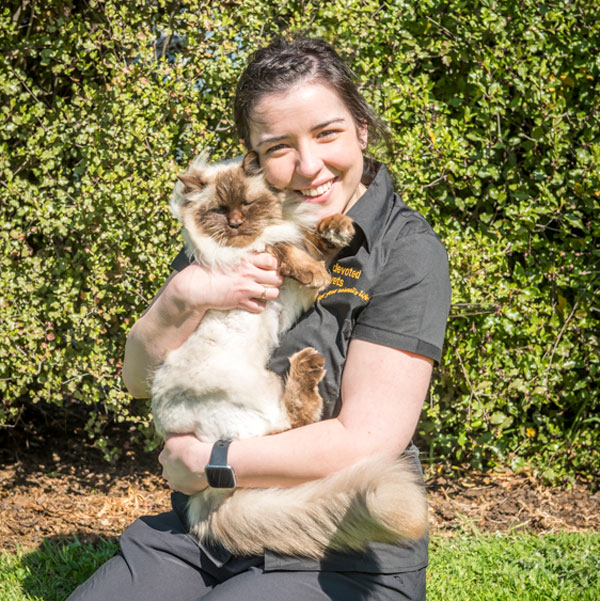 Ash Raymond
Veterinary Nurse
Ashlee has been a Veterinary Nurse since 2014. She loves all of the animals but is particularly interested in our native wildlife and volunteers at a local wildlife park.
Ash enjoys exploring the outdoors and camping with her dog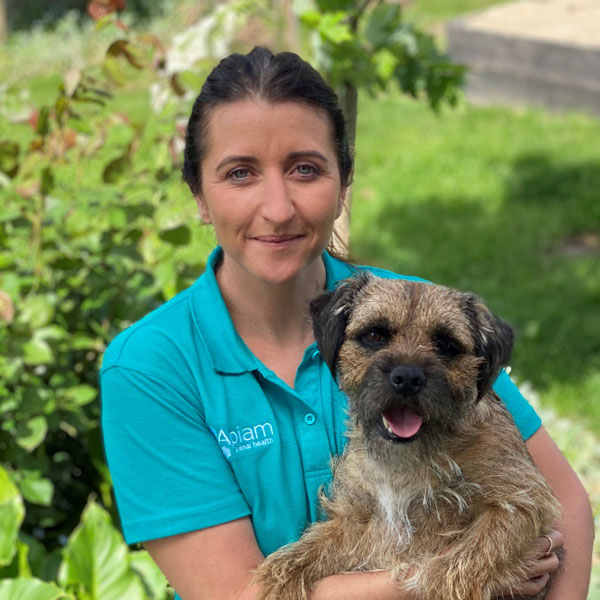 Breanne Schelfhout
Groomer
Bree has been welcomed to the team at Devoted Vets as resident groomer.  She finds working with clients and their pets to create beautiful and practical styles to suit each individuals needs very rewarding and particularly enjoys when pets come in looking rather muddy and scruffy and leave looking and feeling shiny and new.
Animals area huge part of Bree's life outside of work with horse riding and dog walking her favourite hobbies.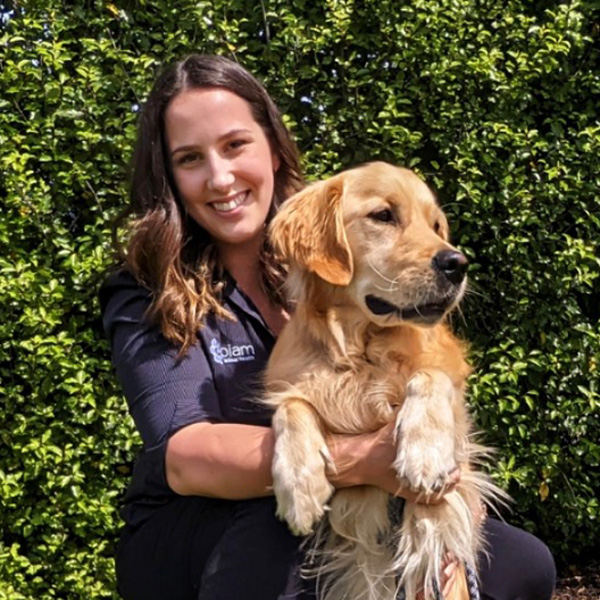 Olivia
Veterinary Nurse
Olivia joined Devoted Vets in 2021 after 5 years of veterinary nursing.
Olivia is new to mixed practice nursing and has been enjoying learning about large animal veterinary care. Olivia has found her career in veterinary nursing very challenging and rewarding, her favourite part about working in the veterinary industry is that there is always somthing new to learn and she can cuddle all the cats and dogs she wants every day.
On her days off you will find her out socialising with friends or hiking up a mountain with her beautiful Golden Retriever Harvey.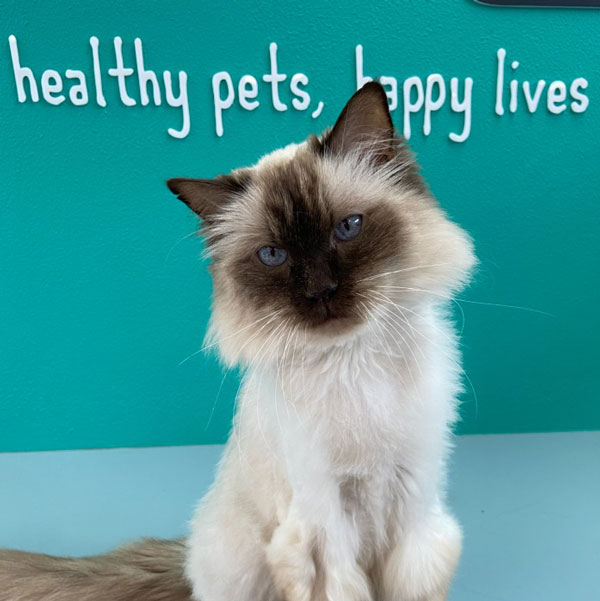 Jasper
Veterinary Assistant
Jasper has been living at Devoted vets for about 2 years after he was surrendered by his previous owners.
Everyone falls in love with Jasper when they see him manning the front desk, but too many pats and Jasper will tell everyone where to go.
His favourite past time is opening bags of food that aren't his, screaming when he wants a treat, pawing the phone when we are trying to book appointments & sleeping beautifully at the front desk.
Even with all Jasper's strange quirks the clinic wouldn't be the same without him.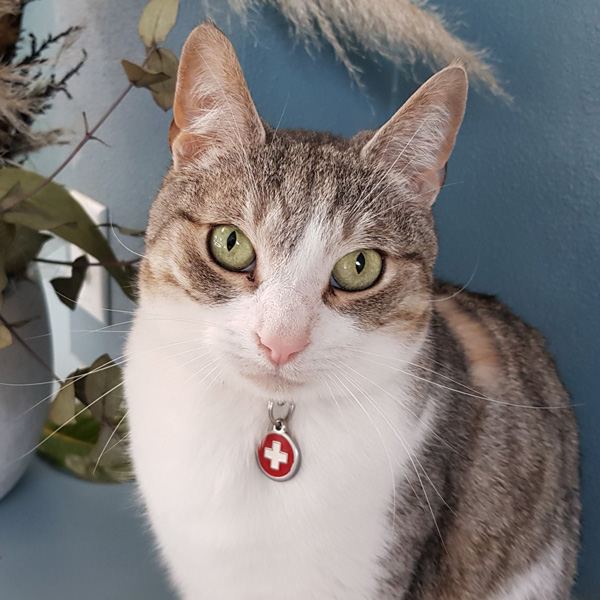 Charlie
Veterinary Assistant
Charlie came to clinic as a young, pregnant cat from the pound. We didn't think she was too far along and had her booked in on Monday for desexing however Charlie had other plans and on the Saturday morning there was one tiny little Charlie lookalike in her bed.
We kept Charlie and her little baby, now called Rupert until he was old enough to be rehomed but by this time we had already fallen in love with Charlie so of course she had to stay!
Charlie likes sleeping in the office, wagging her tail like a dog, inspecting anything with feathers if given half an opportunity, giving everyone a "bath" and having a sneaky little treat from Raelene's lunch box (specially packed for Charlie of course).
Dr. Michael McAuliffe 
Dr Michael McAuliffe graduated from Melbourne University Veterinary School in 1982. He worked down in south Gippsland at the Leongatha Veterinary Clinic in Dairy/mixed practice for 2 years before returning to his home town of Kyabram, in northern Victoria. After a short stint here for 16 months, Dr McAuliffe jumped on a plane and headed for the Mother country, England, where he spent the next 3 years working as a locum mainly in London, and using the UK as a base to backpack around the world. He eventually returned to Kyabram in 1989 and settled back into Dairy/Mixed practice where he has been working since.
Michael has completed some post graduate courses along the way. He holds an international certificate in acupuncture after completing the exams for IVAS and also has a Certificate in Gross Pathology. Michael is also a qualified CountDown Downunder (Mastitis) and an InCalf (Cattle Reproduction) advisor. He is an accredited NCPD pregnancy tester and a qualified examiner for the NCPD (National Pregnancy Testing Scheme – PREGCHECK™). He is a Transition Management adviser working in conjunction with Dairy Australia.
Michael loves keeping active, and enjoys playing golf, swimming, cycling, rock 'n' roll dancing, eating out at nice restaurants and socialising with friends.
Dr. Clare Williams Paterson 
Clare graduated from the University of Sydney with 1st class honours in Veterinary Science in 1995. She entered private practice in the Hunter Valley of N.S.W., spending the next 12 years predominantly working with horses on and around some of the premium thoroughbred and quarter horse nurseries in the country. During this time opportunities arose to work in Newmarket England, and visit leading equine practices in Kentucky USA and New Zealand, fosussing on both equine reproduction and medicine.
Clare gained membership by examination to the Australian and New Zealand College of Veterinary Scientists in Equine Medicine in 2010. Committed to continuing education, Clare attends a wide variety of post-graduate workshops and conferences, striving to provide a quality, current and individually tailored service to each client. Highlights include a Denoix ultrasound workshop, The University of Sydney Postgraduate Foundation couse in Equine Medicine, an International Equine Reproduction Symposium in Colorado USA, and a recent Equine Raidology course through the Royal Veterinary College in London.
Clare continued in equine practice on moving to the Goulburn Valley and making Kyabram home with her husband Brian in 2007. She joined Kyabram Veterinary Clinic in July 2016, quickly expanding the equine services and facilities the clinic can now offer. An ever-growing client base involving many breeds and disciplines is enjoyed, as is the dynamic, teamwork-orientated workplace. Her special interests include equine reproduction, general and neonatal medicine, opthalmology and laminitis.
Outside work, Clare's interests include her home veggie patch, country and western music, cooking up a storm with family and friends, good wine, dressing up for the races, and relaxing with the dogs and horses at home.
Dr. Rob Bonana
Robert (Rob) Bonanno graduated in 1991 from Sydney University with first class honours.
Rob worked for nearly 10 years in dairy mixed practice on the NSW south coast before moving to Shepparton in 2000 where he purchased a dairy farm and a share in Shepparton Veterinary clinic, which he sold in 2015 to move to Beijing, China to work for Fonterra as the veterinary director of the International Farming venture. He returned to Australia in August 2016 and worked at Coomboona Dairy, a 2500 milking cow high production dairy herd, as herd health manager. Rob has been president of the Australian Cattle Veterinarians twice and served as a board director of the Australian Veterinary Association for 5 years.
Rob joined Apiam in February 2019 to work as a dairy herd health consultant and clinic lead at Kyabram vet clinic
Rob has travelled extensively and lived in 3 different continents. He is married to Julie and has 3 children
Rob retains interests in a few stud cows, loves his British blue shorthair cats Gypsy and Stumbles and Miniature Schnauzer dog, Winston, except when he pulls the clothes of the line or digs up the garden!!
Dr. Serena Moore
Serena Moore graduated from University of Queensland in 1997 and worked for 2 years in mixed practice in the Brisbane Valley before pursuing her dream of working in dairy cattle practice. She has always had a keen interest in cattle, and in February 2000 came to work at Kyabram Veterinary Clinic. Serena fell in love with the people of Kyabram and enjoyed the work so much that she decided to stay.
Dr Moore loves working with all animals, large and small. She has completed a postgraduate course in radiology. She also particularly enjoys surgery and has trained to perform TTO (Triple Tibial Osteotomy) surgeries for dogs with ruptured cruciate ligaments. Dr Moore is a qualified Countdown Downunder and InCalf adviser and has 15years experience in dairy cattle medicine and surgery. She is a NCPD accredited cattle pregnancy tester – PREGCHECK™.
Serena is married to local farmer Malcolm and has a dog (Charlie, the German wired haired Pointer) and cat (Zippy), a house cow and some sheep – quite a menagerie.
Dr. Juleesa Smith 
Originally from Deloraine, Tasmania, Juleesa grew up on a dairy farm and has always had a passion for cattle. She graduated from Charles Stuart University Wagga Wagga in 2018, with a Bachelor of Veterinary Biology and Bachelor of Veterinary Science. She joined the Kyabram Veterinary Clinic team in 2018 to pursue her interest in rural mixed practice.
Outside of work, Juleesa enjoys hiking, traveling, kayaking and spending time with friends and family. Juleesa enjoys playing sport and is currently playing AFL.
Juleesa has a greyhound called 'Trap', and also has numerous pet cows that back in Tasmania on the family farm.
Dr. Kate Creswell
Kate Creswell completed her Melb Uni vet degree in 1988 and has worked in the Goulburn Valley for 28 years in mixed practice. She returns to Kyabram Vets after 18 years, working predominately from Nathalia. Kate married Stuart (Fred) Hodge and has 3 daughters, her eldest celebrating her 21st birthday recently. Kate has multiple pets, including 3 very old beef cows and 2 big Newfoundland dogs. She lives on an irrigated cropping farm just out of Numurkah and enjoys her local community commitments which include Rotary, Ag Society, book group and Hospital Board. She also enjoys a local cycling group called the Giraffes. Kate is very excited to be back and part of the Ky Team, injecting some enthusiasm into the Nathalia Branch practice.